Wellness: health and well-being
Steam baths...
... health and relaxation
The use of steam baths, Turkish baths, or hammams, as they are called in the Middle East, dates back to the times of the ancient Greeks and Romans, and their cleansing effect and health benefits mean they continue to be used today.
Steam humidification
for a health treatment practiced since ancient times
and now used all over the world.
The treatment is performed in a room where relative humidity is kept at around 100%, with a temperature between 40 and 50°C at head height. Compared to the dry environment of a sauna, perspiration is less intense, however considering that the treatment can last longer, much more perspiration is produced, with numerous health benefits.

Essential oils are often added to the steam, such as eucalyptus, to further enhance the feeling of well-being during the session. As well as providing humidity and distributing essences, CAREL humidifiers for wellness applications can also control the lights and fans in the steam bath.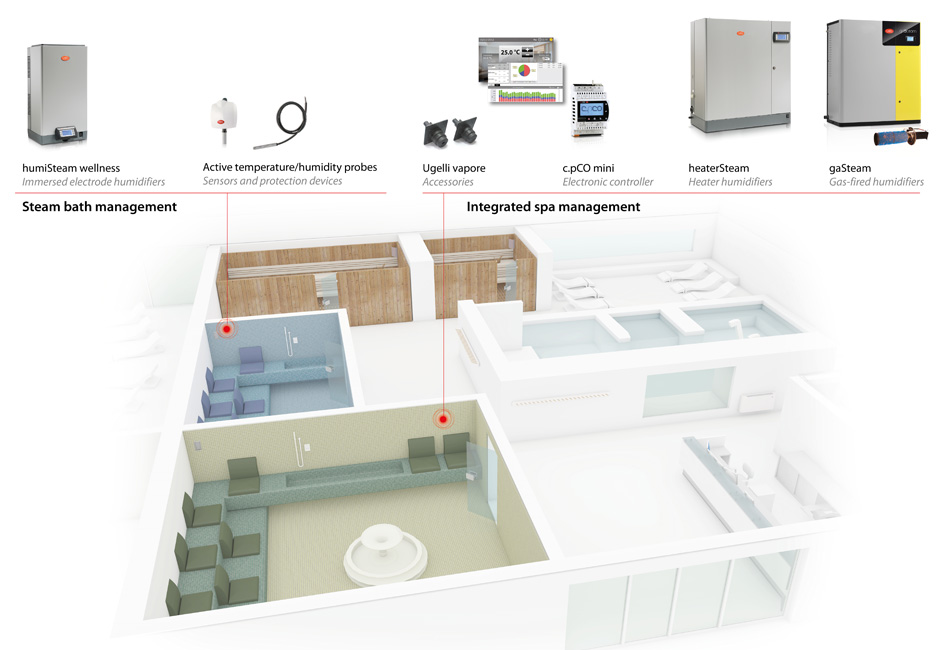 Steam humidifiers are the heart of a steam bath, creating the ideal humidity and temperature conditions for the desired treatment.
| | | |
| --- | --- | --- |
| Cleansing the skin | Cardiorespiratory system | Feeling of well-being |
| Natural perspiration brings deep cleansing of the skin. | Ideal for the respiratory tracts, dilates the blood vessels and improves circulation. | An invigorating and relaxing effect that helps relieve everyday stress. |
humiSteam Wellness

humiSteam Wellness is part of the family of immersed electrode steam humidifiers, and is designed specifically for installation in steam baths.

The unit is fitted with an electronic controller featuring a large graphic display, for centralised management of steam bath operation:
daily and weekly time bands;
different temperature set points based on the time band;
up to three actuators for distribution of essences, and one for the "disinfection" cycle;
up to two fans for outside air intake and exhaust
inside lights.
The display-keypad can be detached from the humidifier and used as a remote control, to simplify monitoring and control of steam bath operation.
heaterSteam

The new heaterSteam range exploits the features of the latest generation of Carel electronic controllers, representing the most recent evolution of heater humidifiers in terms of performance, reliability and versatility:
ultra-resistant titanium or Incoloy® heating elements;
exceptional performance: ±1% around relative humidity set point;
versatility: works with any type of water.
heaterSteam, supplied with demineralised water, eliminates the need for routine maintenance to clean the cylinder, guaranteeing continuous steam production in the steam bath.
gaSteam

gaSteam is a green solution as it operates on natural gas, a clean and economical energy source.

It is estimated that the use of gas rather than electricity as the energy source used to produce steam can save up to 70% on the energy costs for normal steam bath operation.

gaSteam is therefore the ideal choice for applications where steam is needed many hours a day, bringing significant savings in operating costs and a rapid return on investment.