heaterSteam titanium
UR*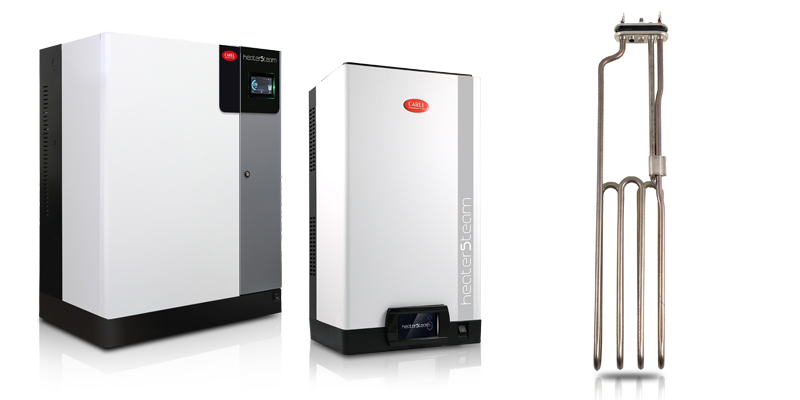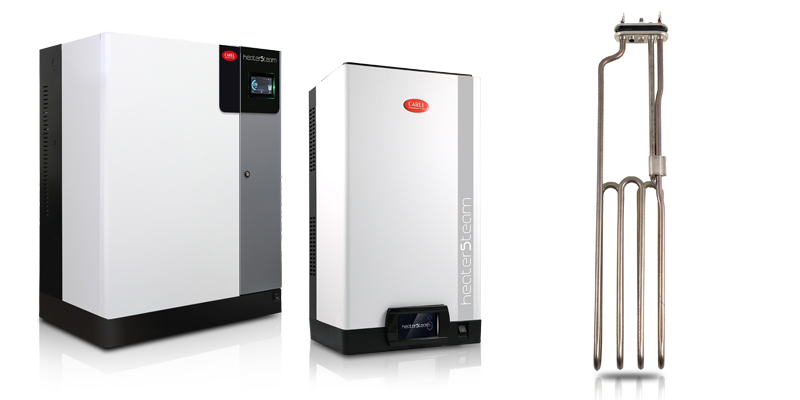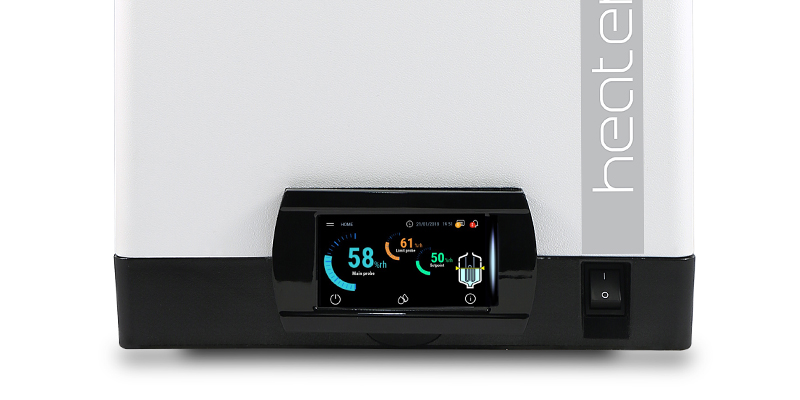 Plus

heaterSteam titanium represents the new frontier in cutting-edge technology applied to air humidification. Its features make it the natural solution for mission-critical applications:

very high precision: ±1% around the relative humidity set point
absolute reliability: titanium heaters, redundancy and rotation functions, anti-foam system
connectivity: integrated BACnet and Modbus, USB port, webserver, Wi-Fi probe capability

General characteristics

heaterSteam titanium is a heater humidifier that stands out not only for its performance in terms of precision and continuous modulation in humidity control, but also for having achieved unprecedented levels of reliability.
The titanium heaters - a world exclusive - are designed to operate with extremely aggressive water, such as water demineralised/deionised water with a conductivity of less than 1 µS/cm, and softened water down to 0° fH.
The reliability of titanium, protection against overheating (heaterSteam is the only humidifier on the market whose heaters come with temperature probes) and the rotation and redundancy functions make the Carel solution ideal for applications in which service continuity is crucial (cleanrooms, hospitals and museums): in fact, maintenance can be carried out on one unit while the other humidifiers in the system continue operating, automatically making up for lost production.
Exceptional performance: heaterSteam titanium is the response to the need for precise relative humidity control, being able to respond to the humidity request with an accuracy of ± 1%. Modulation of production capacity from 0 to 100% and the possibility to preheat the water inside the cylinder mean heaterSteam is ready to respond promptly to variations in humidity request.
The new-generation electronic controller makes heaterSteam titanium even more unique. Modbus and BACnet communication protocols are available as standard, on both the BMS serial and Ethernet ports: no additional electronic cards are needed. The Ethernet connection can also be exploited to access the integrated web server via the local network. This means the unit can be configured and monitored directly from a web browser on a PC or tablet.
Documentation
Technical
Manuals

* Entries are ordered by date

Code
Description
Language
Date *
Release

Code

+0300087IT

Description

heaterSteam 4 - UR Umidificatore a resistenze elettriche

Language

ITA

Date

13/02/2019

Release

1.2

Code

+0300087EN

Description

heaterSteam 4 - UR Electric resistance humidifier

Language

ENG

Date

13/02/2019

Release

1.2

Code

+0300087FR

Description

heaterSteam 4 - UR Humidifi cateur à résistances électriques

Language

FRE

Date

13/02/2019

Release

1.2

Code

+0300087DE

Description

heaterSteam 4 - UR Befeuchter mit elektrischen Heizelementen

Language

GER

Date

13/02/2019

Release

1.2

Code

+0300087ES

Description

heaterSteam 4 - UR Humidifi cador por resistencias eléctricas

Language

SPA

Date

13/02/2019

Release

1.2

Code

+0300087RU

Description

heaterSteam 4 - UR Электрические изотермические увлажнители

Language

RUS

Date

13/02/2019

Release

1.2

Code

+0300087FI

Description

heaterSteam 4 - UR Vastuskostutin

Language

FIN

Date

13/02/2019

Release

1.2

Code

+0300087PT

Description

heaterSteam 4 - UR Umidificador com resistências elétricas

Language

POR

Date

13/02/2019

Release

1.2

Code

+0300087NL

Description

heaterSteam 4 - UR Elektrische weerstand-luchtbevochtiger

Language

SWE

Date

13/02/2019

Release

1.2

Code

+0300087SV

Description

heaterSteam 4 - UR Befuktare med värmeelement

Language

SWE

Date

14/09/2018

Release

1.1

Code

+0300087ZH

Description

heaterSteam 4 - UR

Language

CHI

Date

31/05/2018

Release

1.0

Code

+0300080DE

Description

heaterSteam - UR Befeuchter mit elektrischen Heizelementen

Language

GER

Date

05/02/2018

Release

1.4

Code

+0300080EN

Description

heaterSteam - UR Electric resistance humidifier

Language

ENG

Date

05/02/2018

Release

1.4

Code

+0300080ES

Description

heaterSteam - UR Humidificador por resistencias eléctricas

Language

SPA

Date

05/02/2018

Release

1.4

Code

+0300080FR

Description

heaterSteam - UR Humidificateur à résistances électriques

Language

FRE

Date

05/02/2018

Release

1.4

Code

+0300080IT

Description

heaterSteam - UR Umidificatore a resistenze elettriche

Language

ITA

Date

05/02/2018

Release

1.4

Code

+0300080RU

Description

heaterSteam - UR Электрические изотермические увлажнители

Language

RUS

Date

05/02/2018

Release

1.4

Code

+0300080FI

Description

heaterSteam - UR Vastuskostutin

Language

FIN

Date

05/02/2018

Release

1.4
Commercial
Brochure

* Entries are ordered by date

Code
Description
Language
Date *
Release

Code

+3000203IT

Description

Industria del vino: Soluzioni per la termoregolazione e supervisione

Language

ITA

Date

04/11/2019

Release

1.0

Code

+3000203EN

Description

Wine industry: Temperature control and supervisory solutions

Language

ENG

Date

04/11/2019

Release

1.0

Code

+3000203ES

Description

Industria del vino: Soluciones para el control de la temperatura y la supervisión

Language

SPA

Date

04/11/2019

Release

1.0

Code

+3000103PT

Description

humiSonic Umidificadores adiabáticos de ultrassons

Language

POR

Date

31/10/2019

Release

2.0

Code

+3000018DE

Description

Die Feuchte zählt! CAREL-Befeuchter, eine Lösung für jedes Anliegen.

Language

GER

Date

26/09/2019

Release

4.0

Code

+3000018EN

Description

Humidity matters! CAREL humidifiers, a solution for every need

Language

ENG

Date

26/09/2019

Release

4.0

Code

+3000018ES

Description

¡La humedad es importante! Humidificadores CAREL, una solución para cada necesidad

Language

SPA

Date

26/09/2019

Release

4.0

Code

+3000171ZH

Description

On Show at China Refrigeration 2019

Language

CHI

Date

01/04/2019

Release

2.0

Code

+3000109DE

Description

heaterSteam Unvergleichliche Präzision und Zuverlässigkeit

Language

GER

Date

27/02/2019

Release

2.1

Code

+3000109EN

Description

heaterSteam unprecedented precision and reliability

Language

ENG

Date

27/02/2019

Release

2.1

Code

+3000109ES

Description

heaterSteam precisión y fiabilidad sin precedentes

Language

SPA

Date

27/02/2019

Release

2.1

Code

+3000109IT

Description

heaterSteam precisione e affidabilità senza precedenti

Language

ITA

Date

27/02/2019

Release

2.1

Code

+3000109RU

Description

heaterSteam беспрецедентно высокая точность и надежность

Language

RUS

Date

27/02/2019

Release

2.1

Code

+3000109FR

Description

heaterSteam - l'excellence en fiabilité et précision

Language

FRE

Date

27/02/2019

Release

2.1

Code

+3000109NL

Description

heaterSteam Ongeëvenaarde nauwkeurigheid en betrouwbaarheid

Language

DUT

Date

27/02/2019

Release

2.1

Code

+3000109KO

Description

heaterSteam - 최고의 정밀도와 신뢰성

Language

KOR

Date

27/02/2019

Release

2.1

Code

+3000176EN

Description

On show at Chillventa 2018

Language

ENG

Date

01/10/2018

Release

1.0

Code

+3000179ES.pdf

Description

On Show - Climatización y Refrigeración 2019

Language

SPA

Date

01/10/2018

Release

1.0

Code

+3000109ZH

Description

heaterSteam 电热型加湿器 前所未有的精密控制与高可靠性

Language

CHI

Date

20/06/2018

Release

2.0

Code

+3000170EN

Description

On Show at mce 2018

Language

ENG

Date

13/03/2018

Release

1.0

Code

+3000106EN_chillventa

Description

On Show - Chillventa 2016

Language

ENG

Date

08/10/2016

Release

2.0

Code

+3000018IT

Description

L'umidità è importante! Umidificatori CAREL, una soluzione per ogni richiesta

Language

ITA

Date

19/02/2015

Release

3.0