« Back
Humidification at the DALÌ fresh pasta factory - ITALY
10/12/2008
Humidification at the DALÌ fresh pasta factory - ITALY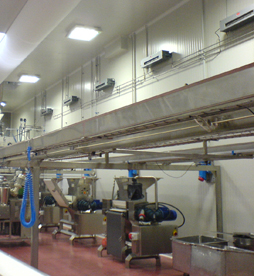 Tortellificio Dalì SPA is the renowned producer of pasta, tortellini and gnocchi based in Crocetta del Montello (Treviso) – Italy.
Dalí, founded in the early '70s, took on an industrial dimension in 1986 with the opening of its new facilities and the creation of its brand. Today it is an expanding company, with average annual growth of 10% over the last 10 years, that distributes its products in Italy and abroad (around 40%) and that produces several million kilos annually. This has been made possible by the modern plant and continuous investments in the quality of the products and services provided.
The air-conditioning system includes an air handling unit that, in cooling operation, dries the air, removing up to around 80kg/h of moisture. The humidification system has thus been designed to compensate for this dehumidification of the air, especially in the area where the pasta runs on a conveyor belt and is exposed to the ambient conditions.
Given the size of the facilities, in particular the height of the building, the conveyor belt and the machinery installed, humiFog blower units were chosen, each with a capacity of 16 kg/h. Six units were installed, giving an overall capacity of 96 kg/h.
+402200260
Latest Success Stories