« Back
New premises for CAREL UK
28/12/2009
New premises for CAREL UK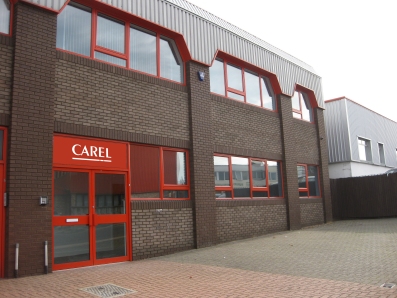 CAREL UK Ltd, the UK subsidiary of CAREL Group, will be moving to their new office and warehouse facilities in Chessington, Surrey, on the 2nd November. The new expansive facilities are located 15 miles from London and have been completely refurbished to ensure they meet all of the company's current and projected future requirements as well as providing an impressive reception for visits by customers and suppliers.
The new address is:
2 Roebuck Place, 110 Roebuck Road, Chessington, Surrey. KT9 1EU.
CAREL UK has grown rapidly and now has a staff profile of 14 people. Carel UK Ltd specialises in selling CAREL solutions for the HVAC/R market through a distribution network of Wholesalers, Control Companies, OEMs and Specialised Distributors.
They pride themselves on developing strong and durable relationships with their customers, which in return provides good loyalty and growth, despite the recent global recession. CAREL has been operating in UK since 1998 and has consistently grown its market share thanks to the efforts and achievements of all CAREL UK staff and in particular thanks to Enrico Mirandola, (Managing Director) and his management team: Stefano Lanzani, Air-Conditoning Sales Manager, Iain McNeil, Humidification Sales Manager, Mike Moss, Refrigeration Sales Manager and Giorgio Fontana, Technical Manager.
Latest News