« Back
Ground-breaking ceremony for CAREL U.S.A plant
20/12/2018
Ground-breaking ceremony for CAREL U.S.A plant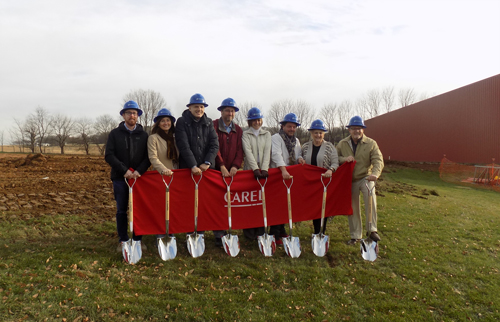 The ground-breaking ceremony for the expansion of CAREL USA production plant located in Manheim took place on December 5.
The US plant expansion plan, which will more than double the area devoted to production from the current 35,000 to 75,000 square feet, is part of a global geographic footprint expansion strategy, involving mainly the US, Europe and China, serving the company's organic growth for the coming years.
In particular, expanding production capacity in the United States will allow us to be even closer to our customers and meet their needs more promptly and effectively; moreover, it will be a fundamental step in increasing our market share in the country, avoiding bottlenecks and improving logistics.
In addition to this, we expect that the positive impacts for the company will also be accompanied by positive impacts for the local community where the plan is being developed: an increase in production capacity will in fact require additional qualified workers in a sector and for a Group in which environmental sustainability is a fundamental asset.
The building expansion work is expected to completed by the end of the 2019 first semester.
Francesco Nalini, the Group's Chief Executive Officer, commented: "The extension of the plant of Manheim follows the implementation, in the same plant, of the first US programmable controller production line, completed last summer, and shows the interest of the Group to the North American market. We expect this country to represent a significant accelerator for CAREL's growth, which will be based on innovation, energy efficiency and customer care."
Latest News