easy heating/cooling
PJS6*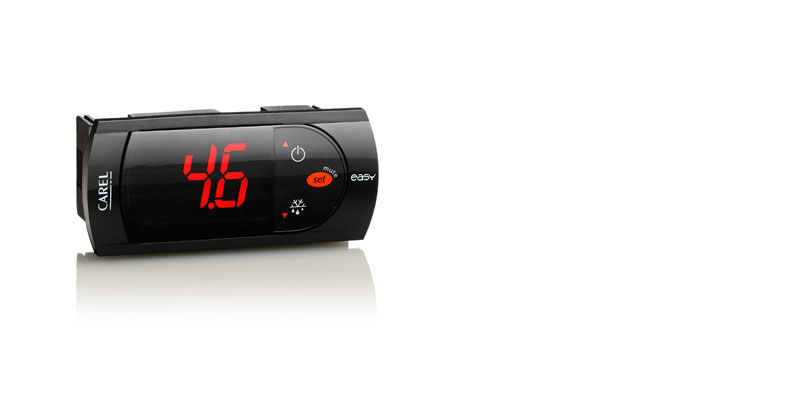 General characteristics

easy S6 heating/cooling is dedicated to the preservation of the products that require very accurate management of the temperature ranges.

Thanks to 2 independent regulation logics, easy heating/cooling can simultaneously control a refrigerator and a heater.

The heating/cooling logics available are the neutral area or the double set point, both with unique probe or with double temperature probe. These logics are easy to configure thanks to 4 sets of parameters already present in the control, by simply changing the "EZY" parameter.

As well as these configurations, thanks to the flexibility of the two independent logics, easy heating/cooling can also be configured to work in double step logic; it can therefore simultaneously control two refrigerators or two heaters.

When regulation with double probe is set, the display can show both the temperature values, alternating every 10 seconds.

Plus

It is suitable for multiple applications such as:

chilled cabinets for bottles of wine;

counters for the presentation of food, buffet cabinets, preservation cabinets;

fish tanks;

cooled and heated water dispensers;

thermostatic cabinets, incubators, thermal chambers;

home brewing of beer;

air conditioners for electronic equipment (telecommunications, data processing centres).
Documentation
Technical
2D/3D drawings

* Entries are ordered by date

Code
Description
Language
Date *
Release

Code

2d-3d easy

Description

2D-3D drawings

Language

ALL

Date

15/10/2013

Release

R0

Technical Leaflets

* Entries are ordered by date

Code
Description
Language
Date *
Release

Code

+050004210

Description

controlli elettronici per la gestione di intervalli di temperatura / electronic controller for range temperature management

Language

ENG ITA

Date

16/07/2013

Release

1.0
Commercial
Brochure

* Entries are ordered by date

Code
Description
Language
Date *
Release

Code

+3000065EN

Description

easy heating/cooling: keep temperature ranges under control

Language

ENG

Date

11/11/2013

Release

1.0

Code

+3000065IT

Description

easy heating/cooling: intervalli di temperatura sotto controllo

Language

ITA

Date

11/11/2013

Release

1.0
Images
High resolution images

* Entries are ordered by date

Code
Description
Language
Date *
Release

Code

PH11LEZ301-easy-compact

Description

CAREL easy compact - easy heating/cooling -easy series for display cabinets, showcase and refrigerated cabinets - Refrigeration Parametric Controls

Language

ALL

Date

10/03/2022

Release

R.0