« Back
Adiabatic air conditioning at the Peñagrande subway station, Madrid, Spain
13/06/2007
Adiabatic air conditioning at the Peñagrande subway station, Madrid, Spain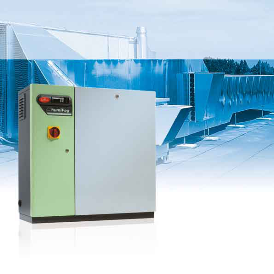 This report describes the functioning of the adiabatic air conditioning system at the platforms of Peñagrande subway station, in Camino de Ganapanes street, Madrid.
We shall therefore describe the elements which make up the system and how they work. The installation of this solution provides more comfort, cooling the environment using water as a source of power, and is considerably more economic than traditional cooling systems (direct expansion) as it consumes less power. Due to the thermo hygrometric conditions of the city centre, the adiabatic humidification/cooling system is very convenient during the summer months, as its power consumption is substantially lower.
In order to obtain these conditions we installed a high-pressure atomization unit, with suitable flow and a stainless steel frame including the nozzles needed to nebulize and cool the air.
The main components of the system are pumping station, water distribution and atomization system (nozzles, solenoid valves, connection pipes and coupling units), water treatment system. A special pump generates high pressure water, which is then atomised through stainless steel nozzles, producing a very fine and uniform mist. The droplets created evaporate spontaneously, consequently humidifying and cooling the air. The sophisticated control system combines the action of an inverter, which controls the pump flow-rate, and a series of solenoid valves that activate only the nozzles required, ensuring the system always operates at the optimum pressure to atomise the water, over a wide range of flow-rates.
+402200150
Latest Success Stories