Heos
UP2*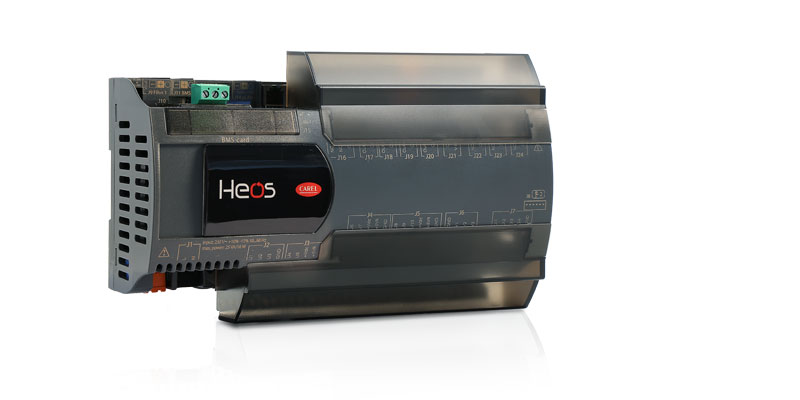 Plus

The main benefits of the Heos controller are:

Integrated management of electronic valve and variable-speed compressor
Compressor envelope management
Specifically-dedicated user interfaces
Compatibility with communication standards
Refrigeration unit COP calculation
Advanced control, safety and prevention functions

General characteristics

Heos represents the new frontier in supermarket showcase/cold room management. It is a new way of developing a refrigeration system that responds in real time to changes in operating conditions. This feature is ensured by continuous modulation, the result of synergy between the variable-speed DC compressor and electronic expansion valve, managed by an advanced controller.
Specifically, the Heos controller can manage all the typical functions of a showcase with variable-speed compressor

showcase temperature and superheat control
compressor management (envelope, COP calculation, oil recovery procedures)
condensing stage control
lights, defrosts, fans and alarms

Through correct management of the extensive data acquired – from a system level down to the details of each individual showcase - using advanced software algorithms, all operating conditions can be optimised and monitored, thus ensuring the highest service level in commercial refrigeration.
Documentation
Technical
Manuals

* Entries are ordered by date

Code
Description
Language
Date *
Release

Code

+0300078ES

Description

Heos Controlador de vitrinas de alta eficiencia

Language

SPA

Date

15/11/2019

Release

1.8

Code

+0300078PT

Description

Heos Controlador de vitrina de alta eficiência

Language

POR

Date

15/11/2019

Release

1.8

Code

+0300078EN

Description

Heos High efficiency showcase controller

Language

ENG

Date

15/11/2019

Release

1.8

Code

+0300078IT

Description

Heos High efficiency showcase controller

Language

ITA

Date

15/11/2019

Release

1.8

Code

+0300081IT

Description

Heos sistem - Waterloop controller Codice: OSSTDmWLCN

Language

ITA

Date

11/01/2018

Release

1.2

Code

+0300081EN

Description

Heos sistem - Waterloop controller Code: OSSTDmWLCN

Language

ENG

Date

11/01/2018

Release

1.2

Code

+0300078RU

Description

Heos Энергоэффективный контроллер для холодильных витрин

Language

RUS

Date

21/03/2017

Release

1.5
Commercial
Success Story

* Entries are ordered by date

Code
Description
Language
Date *
Release

Code

+4000065EN

Description

Heos Sistema comparison between Heos Sistema and traditional technologies

Language

ENG

Date

23/10/2018

Release

1.1

Code

+4000065ES

Description

Heos Sistema Comparación entre el HEOS Sistema y las tecnologías tradicionales

Language

SPA

Date

23/10/2018

Release

1.1

Code

+4000065IT

Description

Heos Sistema Confronto tra Heos Sistema e le tecnologie tradizionali

Language

ITA

Date

23/10/2018

Release

1.1

Code

+4000061PT

Description

Heos Sistema: Comparação real contra um sistema de Waterloop ON-OFF

Language

POR

Date

30/08/2017

Release

1.0

Code

+4000061EN

Description

Heos sistema: Real comparison against a waterloop ON-OFF system

Language

ENG

Date

30/08/2017

Release

1.0

Code

+4000053EN

Description

Heos sistema: the installer's experience

Language

ENG

Date

25/05/2017

Release

1.1

Code

+4000053IT

Description

Heos sistema: il punto di vista dell'installatore

Language

ITA

Date

25/05/2017

Release

1.1

Code

+4000048EN

Description

Heos: the end-user's experience

Language

ENG

Date

30/09/2016

Release

1.0

Code

+4000047EN

Description

Heos sistema Real comparison against traditional technology

Language

ENG

Date

28/09/2016

Release

1.0

Brochure

* Entries are ordered by date

Code
Description
Language
Date *
Release

Code

+3000106EN - Euroshop

Description

On Show - Euroshop 2020

Language

ENG

Date

07/02/2020

Release

4.0

Code

+3000195PT

Description

On Show - Apas 2019

Language

POR

Date

01/04/2019

Release

1.0

Code

+3000130EN

Description

On Show at ATMOsphere Europe 2018

Language

ENG

Date

28/11/2018

Release

2.1

Code

+3000179ES.pdf

Description

On Show - Climatización y Refrigeración 2019

Language

SPA

Date

01/10/2018

Release

1.0

Code

+3000176EN

Description

On show at Chillventa 2018

Language

ENG

Date

01/10/2018

Release

1.0

Code

+3000125PT

Description

Heos sistema Sistema waterloop de alta eficiência, agora "refrigerante neutro"

Language

POR

Date

01/04/2017

Release

1.1

Code

+3000125ES

Description

Heos sistema Sistema waterloop de alta eficiencia, ahora con "refrigerantes neutros"

Language

SPA

Date

01/04/2017

Release

1.1

Code

+3000125IT

Description

Heos Sistema: High efficiency waterloop system, ora "refrigerant neutral"

Language

ITA

Date

01/04/2017

Release

1.1

Code

+3000125EN

Description

Heos sistema: high efficiency waterloop system, now refrigerant neutral

Language

ENG

Date

01/04/2017

Release

1.1

Code

+3000106PL - Euroshop

Description

ON SHOW - Euroshop

Language

POL

Date

05/03/2017

Release

3.0

Code

+3000106EN_chillventa

Description

On Show - Chillventa 2016

Language

ENG

Date

08/10/2016

Release

2.0