pGD Touch NA
pGD*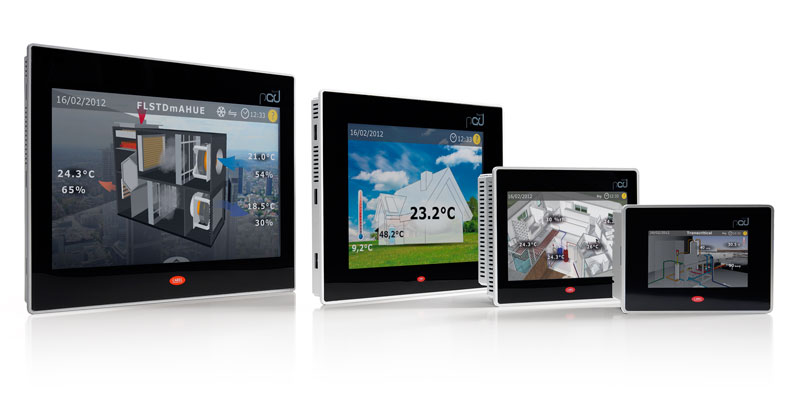 General characteristics

The pGD Touch graphic terminals belong to the TFT touchscreen display range designed to make user interface with the pCO sistema family controllers simpler and more intuitive. Available in numerous different versions in terms of screen size (4.3", 7", 10" and 13") and level of connectivity (with or without Ethernet port).
The electronics used, the HVAC/R libraries offered and the advanced functions available, such as Alpha Blending, allow management of high resolution images and advanced functions to achieve a high aesthetic standard. The touchscreen panel allows highly simple, intuitive and attractive interfaces to be developed, as well as simplifying human-machine interaction, making browsing the screens much easier. All the displays in the new CAREL range are programmable using the 1tool suite. Connection to the pCO controller is available over an RS485 or Ethernet network using the ModBus or BACnet protocol.
Documentation
Technical
2D/3D drawings

* Entries are ordered by date

Code
Description
Language
Date *
Release

Code

2d-3d pGD touch 7

Description

2D-3D drawings

Language

ALL

Date

22/06/2015

Release

R0

Code

2d-3d pGD touch 4_3

Description

2D-3D drawings

Language

ALL

Date

26/09/2013

Release

R0

Manuals

* Entries are ordered by date

Code
Description
Language
Date *
Release

Code

+030221540

Description

pGD Touch:Terminale programmabile/ Programmable terminal

Language

ENG ITA

Date

21/01/2015

Release

1.1

Technical Leaflets

* Entries are ordered by date

Code
Description
Language
Date *
Release

Code

+050001899

Description

pGDx User terminal pGD Touch 4.3"

Language

ARA ENG

Date

05/02/2019

Release

1.1

Code

+050001485

Description

pGD touch PGDT10000FR10-PGDT13000FR10: Terminale utente pGD Touch 10" / 13" - User terminal pGD Touch 10" / 13"

Language

ENG ITA

Date

27/01/2016

Release

1.3

Code

+050001486

Description

pGD 10-13" touch Terminal utilisateur pGD Touch 10" / 13" - 10" / 13" pGD Touch-Bedienteil

Language

FRE GER

Date

27/01/2016

Release

1.3

Code

+050001493

Description

pGD touch 7" User terminal pGD Touch 7"

Language

ARA ENG

Date

20/11/2012

Release

1.0

Code

+050001490

Description

pGD touch 7" Terminale utente pGD Touch 7" - User terminal pGD Touch 7"

Language

ENG ITA

Date

20/11/2012

Release

1.0

Code

+050001475

Description

pGD touch Terminale utente pGD Touch 4.3" - User terminal pGD Touch 4.3"

Language

ENG ITA

Date

01/06/2012

Release

1.3

Code

+050001476

Description

pGD touch Terminal utilisateur pGD Touch 4.3" - 4.3" pGD Touch-Bedienteil

Language

FRE GER

Date

01/06/2012

Release

1.3
Commercial
Brochure

* Entries are ordered by date

Code
Description
Language
Date *
Release

Code

+3000030DE

Description

pGD Touch: Mehr als nur ein einfaches Terminal

Language

GER

Date

20/12/2013

Release

1.1

Code

+3000030EN

Description

pGD touch: much more than a simple terminal

Language

ENG

Date

20/12/2013

Release

1.1

Code

+3000030ES

Description

pGD touch: mucho más que un simple terminal

Language

SPA

Date

20/12/2013

Release

1.1

Code

+3000030IT

Description

pGD touch: molto più di un semplice terminale

Language

ITA

Date

20/12/2013

Release

1.1

Code

+3000014DE

Description

Die integrierte Lösung für die Klimatechnik

Language

GER

Date

01/10/2012

Release

1.0

Code

+3000014EN

Description

the integrated solution for air handling unit control

Language

ENG

Date

01/10/2012

Release

1.0

Code

+3000014IT

Description

la soluzione integrata per il controllo delle centrali trattamento aria

Language

ITA

Date

01/10/2012

Release

1.0

Code

+3000030ZH

Description

pGD touch: 不仅仅是一个简单的终端

Language

CHI

Date

01/03/2012

Release

1.0

Code

+3000021EN

Description

PCO SISTEMA+

Language

ENG

Date

01/03/2010

Release

1.0

Code

+3000021IT

Description

PCO SISTEMA+

Language

ITA

Date

01/03/2010

Release

1.0

Code

+3000021SV

Description

integrerade lösningar för högpresterande enheter

Language

SWE

Date

01/03/2010

Release

1.0

Code

+3000021DE

Description

PCO SISTEMA+

Language

GER

Date

01/03/2010

Release

1.0

Success Story

* Entries are ordered by date

Code
Description
Language
Date *
Release

Code

+4000080IT

Description

Gatwick Data Centre: l'efficienza decolla con CAREL

Language

ITA

Date

15/02/2021

Release

1.0

Code

+4000080EN

Description

Gatwick Data Centre: efficiency takes off with CAREL

Language

ENG

Date

15/02/2021

Release

1.0

Code

+4000043EN.pdf

Description

New BITZER training center - Fischer transcritical CO2 compressor rack with CAREL electronics at the BITZER Schaufler academy

Language

ENG

Date

01/12/2015

Release

1.0

Code

+4000043IT

Description

Nuovo training center BITZER - Centrale frigorifera a CO2 transcritica Fischer con elettronica CAREL nella Schaufler academy BITZER

Language

ITA

Date

01/12/2015

Release

1.0
Images
High resolution images

* Entries are ordered by date

Code
Description
Language
Date *
Release

Code

PH11LPG301-pGD4

Description

pGDTouch4-CAREL-TerminalsUnit-Terminals

Language

ALL

Date

02/09/2021

Release

R.0

Code

PH11LPG303-pGD7

Description

pGDTouch7-CAREL-Terminals-Unit Terminals

Language

ALL

Date

02/09/2021

Release

R.0

Code

PH11LPG304-pGD10

Description

pGDTouch10-CAREL-Terminals-Unit Terminals

Language

ALL

Date

02/09/2021

Release

R.0