pGDX
PGR* PGB*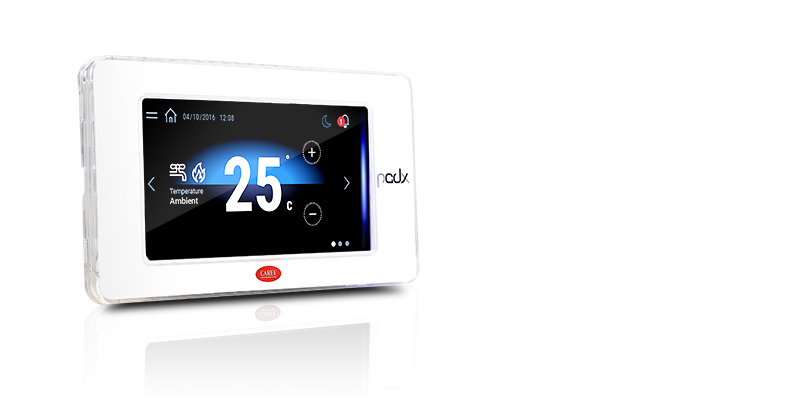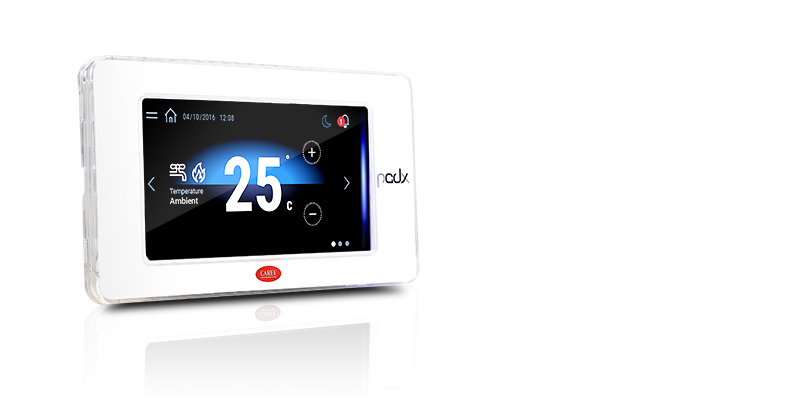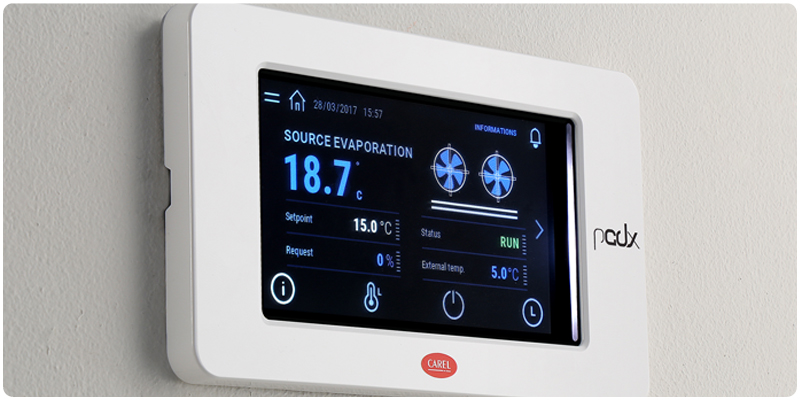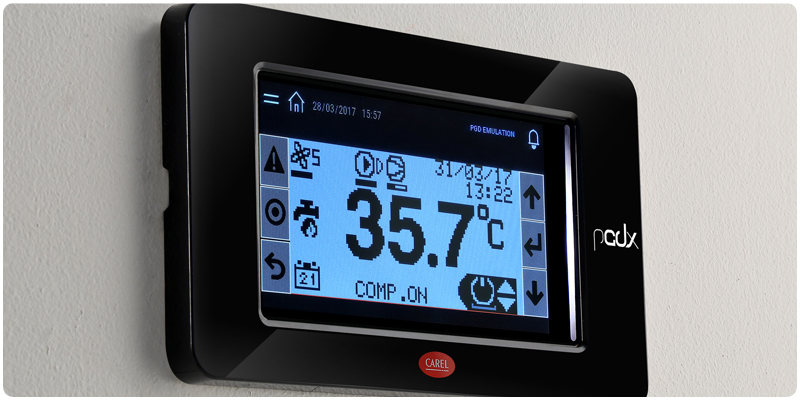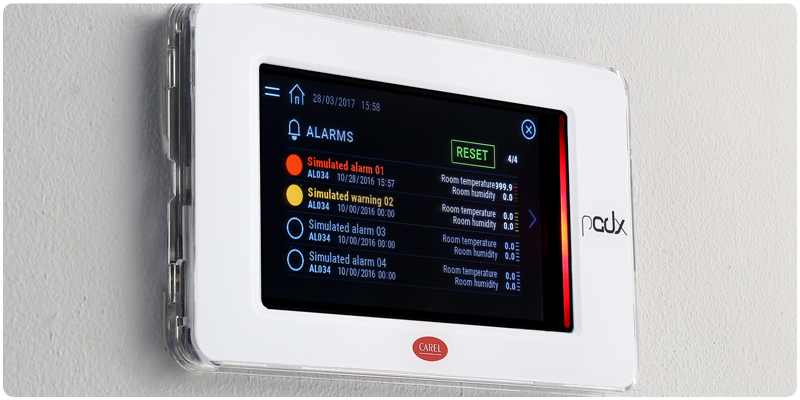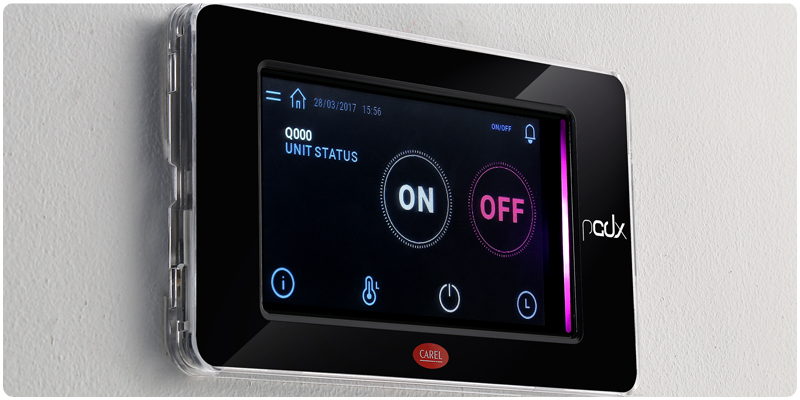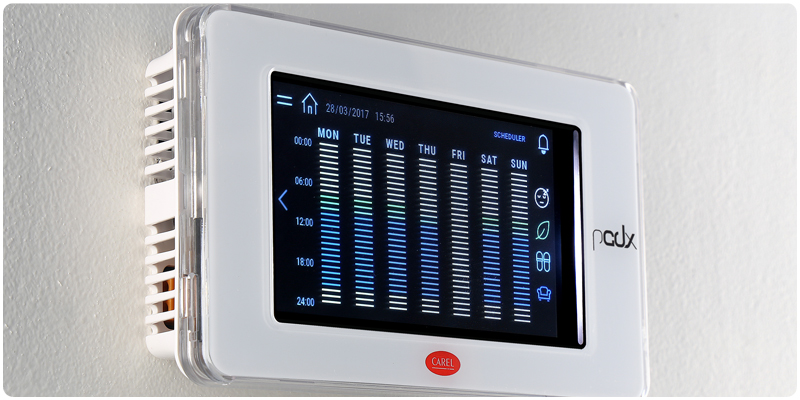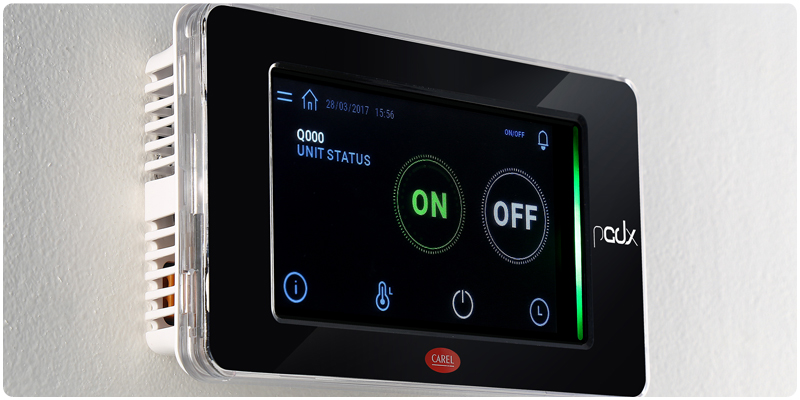 Plus

Power supply directly from the CAREL programmable controller: pGDX is connected to the controller in the same way as the pGD1 display, with power supply and serial communication via the same cable, meaning no external power supply is needed.
Simulation of screens developed for previous interfaces: pGDX can not only display the graphic pages specifically developed using its programming tool, but also existing pages designed for the pGD1 display
Concealed USB port on the front: hidden behind the faceplate, the front USB port can be used for updates or to download logs from the pGDX without having to access the inside of the unit, and without requiring special tools
RGB LED bar on the front, managed by the application: with 8 different colour variations, visible at any time, and without needing to move close to the display, users can clearly identify unit status, even when the display is in standby
Built-in temperature/humidity probe: available as an option on the room terminal version, this can share the values read both with the terminal and the connected controller, meaning just one device, rather than two, can be installed to access the functions of both instruments
Optional external keypad: on the unit terminal version, pGDX can be connected to a physical keypad for more intuitive interaction with the unit, where immediate and frequent access is required

General characteristics

pGDX is the only touchscreen display that can be used to upgrade HVAC/R units designed for use with the pGD1 without needing to modify the wiring, mounting arrangement or software.

pGD EXPERIENCE, or pGDX for short, is a new 4.3" touchscreen display, the evolution of the CAREL pGD family displays, featuring innovative functions that are not available on other user interfaces currently on the market. pGDX can moreover be easily integrated into CAREL systems, fully exploiting interaction between the different components.

Programming using a tool with a vast variety of libraries and typical user interface functions, plus extensive connectivity via the RS485 and Ethernet ports with standard protocols, mean this display can be seamlessly integrated into all HVAC/R applications.

pGDX is available in different models that, combined with specific accessories, can be installed in many applications and environments; it can in fact be used as a terminal on indoor or outdoor units, or as a room terminal.

Documentation
Technical
Technical Leaflets

* Entries are ordered by date

Code
Description
Language
Date *
Release

Code

+050001895

Description

pGDx Terminale utente pGDx Touch 4.3" - User terminal pGD Touch 4.3"

Language

ENG ITA

Date

19/09/2019

Release

1.3

Code

+050001896

Description

pGDx Terminal utilisateur pGD Touch 4.3" - 4.3-Zoll-Terminal ‹pGD Touch›

Language

FRE GER

Date

19/09/2019

Release

1.3

Code

+050001897

Description

pGDx Terminal del usuario pGDx Touch 4.3" - Terminal usuário pGDx Touch 4.3"

Language

POR SPA

Date

19/09/2019

Release

1.3

Code

+050001898

Description

pGDx Графический терминал pGD Touch 4.3" - User terminal pGD Touch 4.3"

Language

ENG RUS

Date

19/09/2019

Release

1.3

Code

+05C001895

Description

pGDx Touch 4.3" - User terminal pGD Touch 4.3"

Language

CHI ENG

Date

04/02/2019

Release

1.2

2D/3D drawings

* Entries are ordered by date
Commercial
Brochure

* Entries are ordered by date

Code
Description
Language
Date *
Release

Code

+3000164EN

Description

Solutions for integration of HVAC systems

Language

ENG

Date

09/09/2019

Release

2.0

Code

+3000171ZH

Description

On Show at China Refrigeration 2019

Language

CHI

Date

01/04/2019

Release

2.0

Code

+3000176EN

Description

On show at Chillventa 2018

Language

ENG

Date

01/10/2018

Release

1.0

Code

+3000179ES.pdf

Description

On Show - Climatización y Refrigeración 2019

Language

SPA

Date

01/10/2018

Release

1.0

Code

+3000127EN

Description

High efficiency management for residential heat pumps

Language

ENG

Date

01/10/2018

Release

2.0

Code

+3000164IT

Description

k.water e k.air Soluzioni per l'integrazione degli impianti HVAC

Language

ITA

Date

23/04/2018

Release

1.1

Code

+3000106PL - Euroshop

Description

ON SHOW - Euroshop

Language

POL

Date

05/03/2017

Release

3.0

Code

+3000106EN_chillventa

Description

On Show - Chillventa 2016

Language

ENG

Date

08/10/2016

Release

2.0