th-Tune
AT*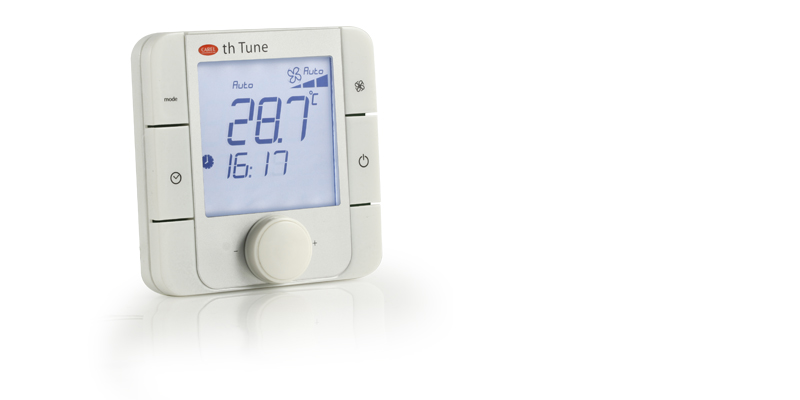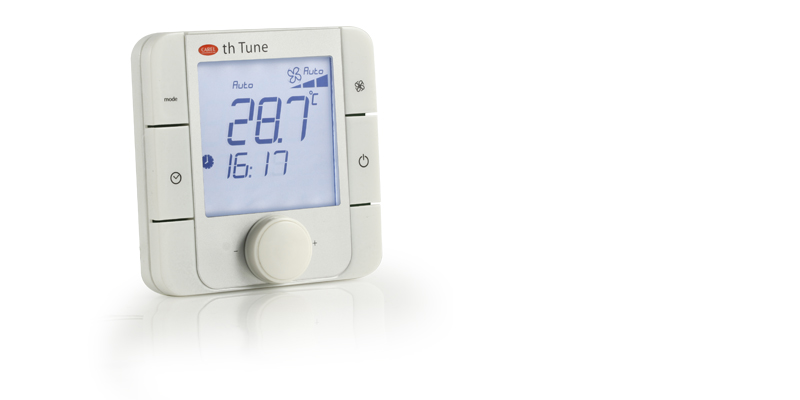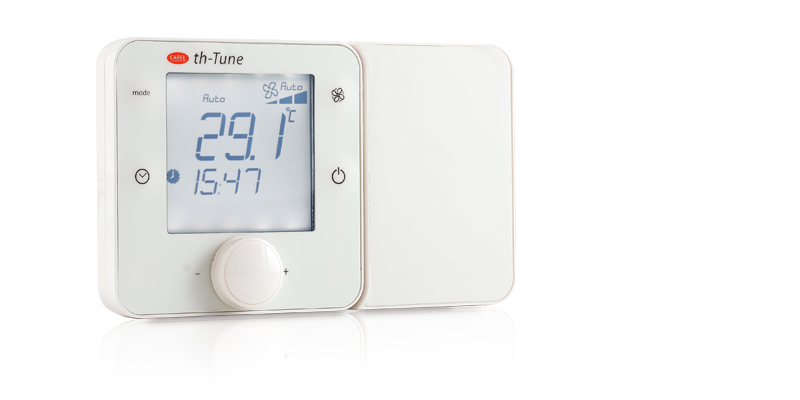 General characteristics

th-Tune is the CAREL room terminal that allows users to control temperature and humidity in residential environments. Depending on the model, the terminal can be fitted with a temperature probe or temperature and humidity probe, while the power supply may be 230 Vac or 24 Vac/Vdc. th-Tune is compatible with the main flush-mounted switch boxes available on the market (IT, US, DE, CN).

Temperature and humidity setting is simple and intuitive using the knob on the front with rotary encoder. th-Tune also lets users adjust some settings for the room controller, such as operating mode and time bands. Control and information displayed depend exclusively on the controller that th-Tune is connected to. The compact dimensions and elegant design make the terminal easy adaptable to all types of rooms. Connection to the pCO controller is available over the RS485 network using the Modbus protocol.
Documentation
Technical
2D/3D drawings

* Entries are ordered by date

Technical Leaflets

* Entries are ordered by date

Code
Description
Language
Date *
Release

Code

+0500017AR

Description

AT*-th Tune Electronic controller for air-conditioning (wall mountng model)

Language

ARA ENG

Date

14/04/2011

Release

1.1

Code

+0500017RU

Description

AT*-th Tune: Электронный контроллер для систем вентиляции и кондиционирования (настенный монтаж) / Electronic controller for air-conditioning (wall mountng model)

Language

ENG RUS

Date

13/04/2011

Release

1.1

Code

+0500017IE

Description

AT*-th Tune Controllo elettronico per condizionamento (mod. a parete) / Electronic controller for air-conditioning (wall mountng model)

Language

ENG ITA

Date

13/04/2011

Release

1.1

Code

+0500016RU

Description

AT* - th Tune: Электронный контроллер для систем вентиляции и кондиционирования (настенный монтаж) / Electronic controller for air-conditioning (fl ush-mount model)

Language

ENG RUS

Date

13/04/2011

Release

1.2

Code

+0500016IE

Description

AT* - th Tune: Controllo elettronico per condizionamento (modello a incasso)/ Electronic controller for air-conditioning (fl ush-mount model)

Language

ENG ITA

Date

13/04/2011

Release

1.2

Code

+0500016EZ

Description

AT* - th Tune: 空调电子控制器(嵌入式安装)/ Electronic controller for air-conditioning (flush-mount model)

Language

CHI ENG

Date

13/04/2011

Release

1.2
Commercial
Other related documentation

* Entries are ordered by date

Code
Description
Language
Date *
Release

Code

+800004031

Description

Solutions for Air Handling Units: Technology and expertise for indoor air quality and energy saving

Language

ENG

Date

05/04/2023

Release

1.2

Code

+800004030

Description

Soluzioni per Unità Trattamento Aria: Tecnologia e competenza per la qualità dell'aria e il risparmio energetico

Language

ITA

Date

05/04/2023

Release

1.2