« Back
Sustaining our future by rebuilding our past
14/12/2009
Sustaining our future by rebuilding our past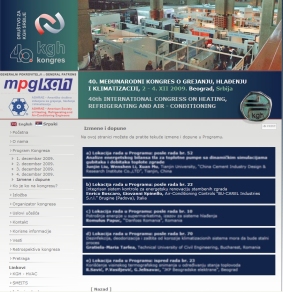 This is the motto of the 40th international congress on heating, refrigerating and air-conditioning held in Belgrade (Serbia) last December 1-4 where we were proud to participate.
The paper we presented was focused on an Integrated control system for energy renovation of a residential building provided with a geothermal heat pump.
Since the first conference in 1970, many professionals have been expanding their knowledge on professional accomplishments and present their ideas and results, meeting their colleagues from all the continents.
The Belgrade HVAC&R congress has received recognition and support from all HVAC/R associations worldwide in its efforts to minimize energy use in buildings, which account for the highest energy use in all the countries worldwide, and focus on renewable sources, which represent a solution for the continued existence of our planet.
Latest News