« Back
Join the Future: a new stage in the company's growth is starting
04/10/2019
Join the Future: a new stage in the company's growth is starting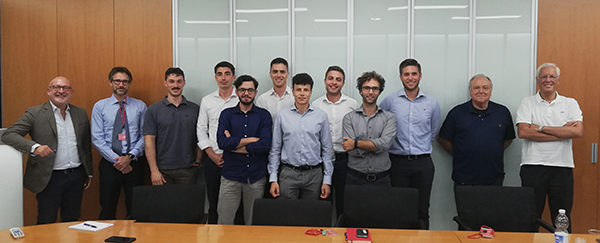 At the beginning of September, the closing event of the fourth Join the Future project, a program aimed at recruiting particularly deserving young graduates, was held at Headquarters in Brugine.
At the event, the eight participants had the opportunity to describe to colleagues and their tutors from the company the projects they had worked on during their assignment to CAREL's foreign subsidiaries in the USA, China, Brazil, Germany, Spain and Great Britain. CAREL's President Luigi Rossi Luciani, Vice President Luigi Nalini, CEO Francesco Nalini and Chief HR & Organization Officer Carlo Vanin, also spoke at the event, congratulating the JTF participants.
Following the conclusion of the graduate program, participants in the Join The Future project will commence a new stage of development at the company, in the roles that were assigned to them in the Knowledge Center, Lean Management department, product platforms and Sales & Marketing department.
"We are very pleased with the results of the Join The Future project, and intend to confirm our investment in this program going forward in the future", commented Diego Cargnelutti, Corporate HR Business Partner. "For CAREL, this program represents a way to attract and retain young talent in the company. For the new graduates, on the other hand, it is a valuable opportunity to learn right from day one the international dynamics of CAREL, understand the value of lean philosophy and get an overview of the various business areas."

Latest News