Chiller/Heat Pump units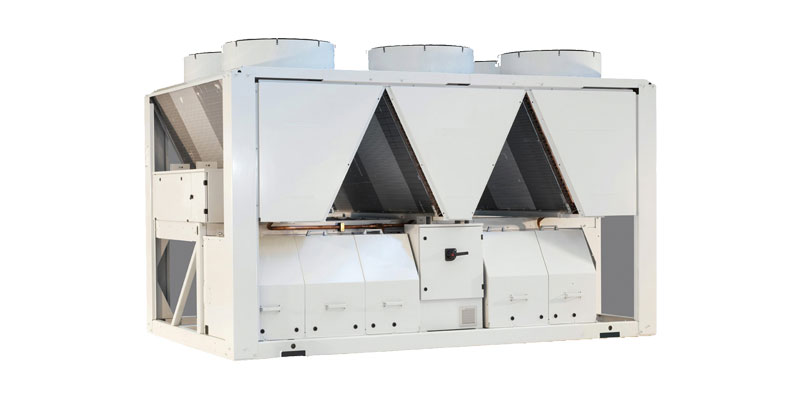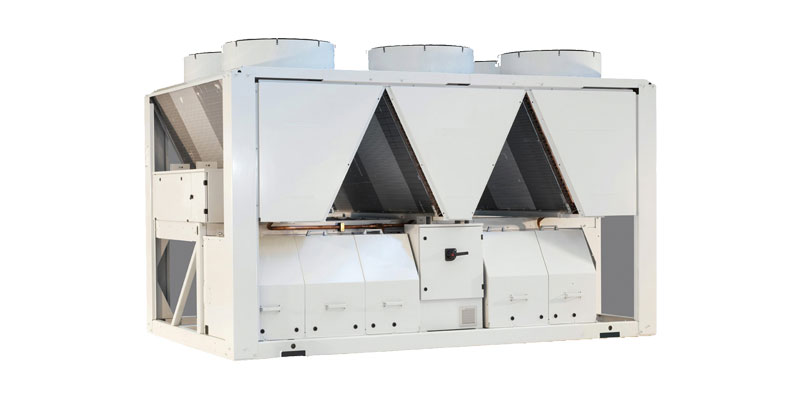 General characteristics

Chillers are water cooling units used in commercial and industrial applications: in the former they are installed either stand-alone or in combination with other units, such as AHUs and rooftops, so as to obtain comfortable temperature and humidity conditions in occupied spaces, while in the latter they guarantee stable temperature control for industrial processes.


Based on the source fluid used, chillers can be divided into two categories: air-cooled (also commonly called air/water), or water-cooled (water/water). Chillers are then further identified by the type of compressors fitted.

Rotary compressors can be used for low capacities (up to 50 kW/compressor), scroll compressors for low-medium capacities (up to 80 kW/compressor), while screw and centrifugal compressors are prevalently used for higher capacities (500 kW/compressor).


CAREL can provide the best high-efficiency solution for all chiller configurations, adopting BLDC technology for rotary or scroll compressors or stepped modulation for screw compressors, EXV electronic expansion valves, an extended range of programmable controllers, and advanced applications that optimise system operation while offering ample customisation possibilities.

Plus

Complete envelope control for the main compressor manufacturers on the HVAC market, meaning complete freedom of choice.
Integrated solution to ensure the highest efficiency and energy savings, through the combined action of EXV valve, compressor and condensing/evaporation pressure set point;
Availability of BLDC technology: the best solution for modulating control, ideal for operation at part loads.
Ready for connection to the most commonly-used BMS systems available on the market (BACnet, LonWorks, Modbus, …) and the CAREL tERA remote monitoring system.
Integration with CAREL chillBooster adiabatic humidifier for higher energy efficiency and better unit performance in summer
Dual control PID (at chiller start-up and in steady operation) for more precise unit management.
Anti-freeze function based on saturated refrigerant temperature rather than the outlet water temperature, for more effective identification of the risk of frost on the evaporator.
Documentation
Commercial
Brochure

* Entries are ordered by date

| Code | Description | Language | Date * | Release |
| --- | --- | --- | --- | --- |
| +3000081EN | Carel integrated solution for chillers/heat pumps with screw compressors | ENG | 14/03/2014 | 1.0 |
| +3000081IT | La soluzione integrata Carel per unità chiller/pompa di calore con compressore a vite | ITA | 14/03/2014 | 1.0 |
| +302235441 | ir33 universale: electronic controller with universal inputs | ENG | 10/12/2009 | 2.1 |
| +302235440 | ir33 universale: controllo elettronico con ingressi universali | ITA | 10/12/2009 | 2.1 |
| +302240670 | Industria del vino Sistemi per il controllo di temperatura e umidità | ITA | 28/05/2009 | 1.0 |
| +302240671 | Wine industry Temperature and humidity control systems | ENG | 28/05/2009 | 1.0 |
| +302239366 | Integrated solutions for small and medium size chiller/heat pumps | ENG | 01/03/2006 | 1.0 |
| +302239365 | Soluzioni integrate per chiller e pompe di calore di media e piccola taglia | ITA | 01/03/2006 | 1.0 |
| +302239611 | μC sistema: the range | ENG | 01/10/2005 | 1.0 |