easy cool
PZD*SNP0E1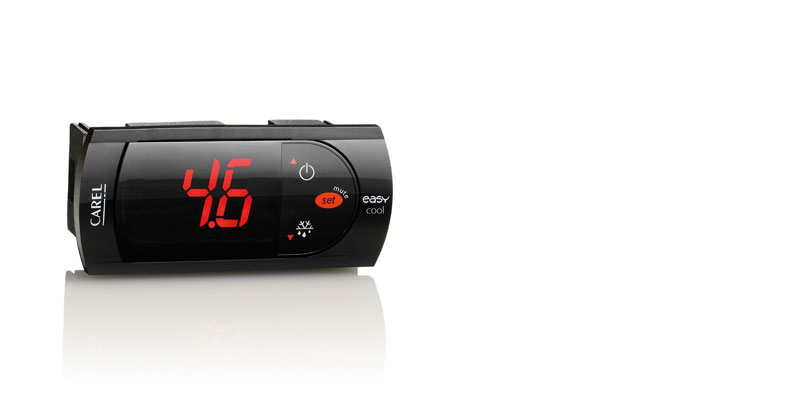 General characteristics

The ideal solution for static plug-in refrigeration units at normal temperature (above 0 °C), designed for installers.
To supply a solution that is complete, simple to install and easy to use, the controllers are already factory programmed with a standard configuration. The controller comes with a specific instruction sheet, describing assembly details, probe and actuator connections and configuration parameters.
The pleasant appearance, combined with the IP65 level of protection, makes this the ideal solution for plug-in refrigerated showcases, display cases and cabinets for professional kitchens and catering applications.
The controller can be fully programmed using just 19 parameters.

Plus

Controller factory programmed and ready to be used
Limited number of parameters;
Just 31 mm thick;
16 A compressor relay.
Documentation
Technical
2D/3D drawings

* Entries are ordered by date

Code
Description
Language
Date *
Release

Code

2d-3d easy

Description

2D-3D drawings

Language

ALL

Date

15/10/2013

Release

R0

Technical Leaflets

* Entries are ordered by date

Code
Description
Language
Date *
Release

Code

+050004126

Description

EASY COOL (PZD2SNP0E1): Régulateurs électroniques pour unités positives à degivrage à air / Elektronische regelaar voor positieve toepassingen

Language

FRE

Date

08/09/2020

Release

1.2

Code

+050004136

Description

EASY COOL (PZD*S*****)

Language

ARA

Date

06/11/2018

Release

1.2

Code

+050004128

Description

EASY COOL (PZD*S*P***): controladores electrónicos para unidades estáticas a temperatura normal

Language

SPA

Date

28/07/2011

Release

1.1

Code

+050004123

Description

EASY COOL (PZD1SNP0E1): Elektronische Steuerungen für Kältegeräte mit statischem Verdichter im Plusbereich

Language

GER

Date

02/03/2010

Release

1.0
Commercial
Brochure

* Entries are ordered by date

Code
Description
Language
Date *
Release

Code

+3000015IT

Description

easy cool & easy freeze: controlli elettronici per banchi, vetrine ed armadi refrigerati a spina

Language

ITA

Date

14/01/2011

Release

2.1

Code

+3000015FR

Description

easy cool & easy freeze: Régulateurs électroniques pour vitrines et meubles réfrigérés indépendants

Language

FRE

Date

14/01/2011

Release

2.1

Code

+3000015EN

Description

easy cool & easy freeze: electronic controllers for plug-in showcases and cabinets

Language

ENG

Date

14/01/2011

Release

2.1

Code

+3000015DE

Description

easy cool & easy freeze: Elektronische Steuerungen für Plug-in-Kühlmöbel, -Kühlvitrinen und -Kühlschränke

Language

GER

Date

14/01/2011

Release

2.1
Images
High resolution images

* Entries are ordered by date

Code
Description
Language
Date *
Release

Code

PH11LEZ305-easy-cool

Description

CAREL easy cool - easy cool - easy series for display cabinets, showcase and refrigerated cabinets - Refrigeration Parametric Controls

Language

ALL

Date

10/03/2022

Release

R.0