humiDisk
UC*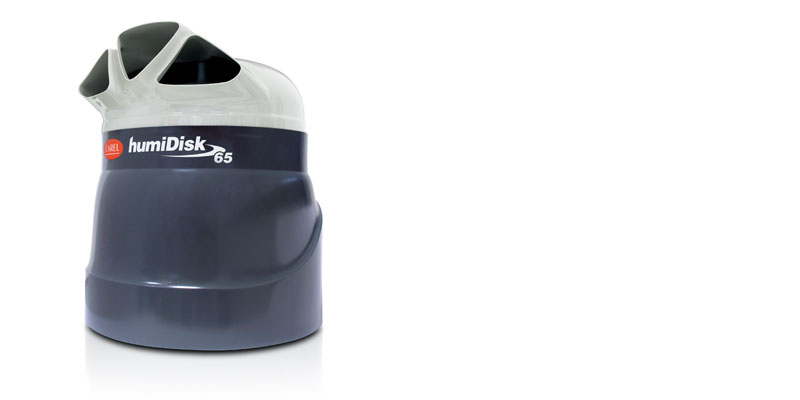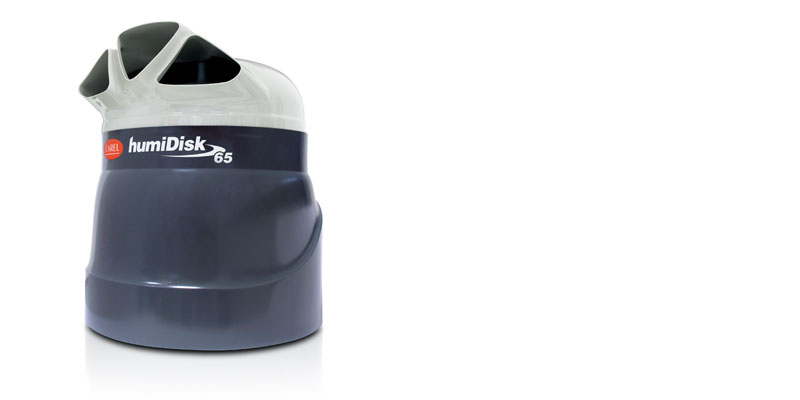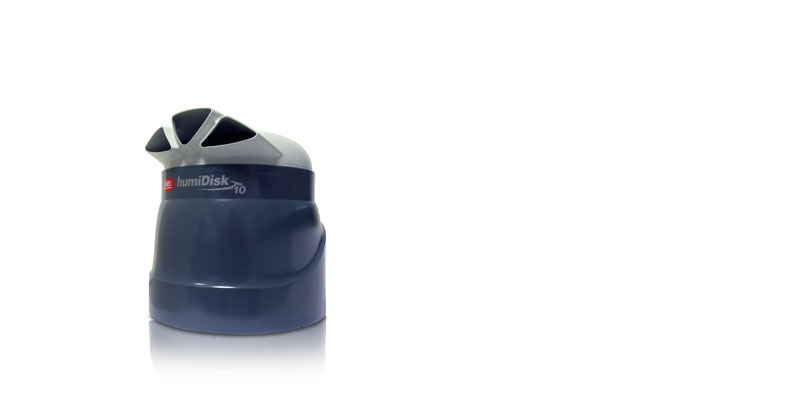 Plus

easy to install and use

guaranteed performance and versatility in all conditions, thanks to a rapid absorption of the droplets produced

large and complete accessory kit (electrical panel, humidistat, anti-freeze resistance, UV lamp)

reduced dimensions thanks to the predisposition for wall installation

General characteristics

humiDisk is a centrifugal humidifier that uses a rotating disk to atomize the water into millions of tiny droplets which, driven by a built-in fan, are released into the environment humidifying and cooling the air. humiDisK is available in two versions: the version with a capacity of 1.0 l/h is compact, easy to use and can be controlled by an external switch or by a humidistat; the version with a capacity of 6.5 l/h, in addition to the bigger size and capacity, also offers the possibility to be controlled by an external electrical panel (optional), which allows the modulation of the capacity produced (from 1.1 to 6.5 l/h), the management of washing cycles at the start and end of the cycle and the activation and control of the anti-freeze device (also optional). Thanks to the ability to work at low temperatures (≥ 1°C) and to the very thin diameter of the droplets produced, humiDisk is particularly suitable for installation in refrigerating rooms and in storage warehouses for products like fruit and vegetables. However, the compact design and the excellent performance make humiDisk a versatile product for many other applications, such as the direct humidification of printing industries, textile industries, etc.


humiDisk can be used both with demineralized water and mains water.
Documentation
Technical
Manuals

* Entries are ordered by date

Code
Description
Language
Date *
Release

Code

+030222023

Description

humiDisk. дисковый увлажнитель

Language

RUS

Date

08/01/2020

Release

2.6

Code

+030222022

Description

humiDisk: humidificador centrífugo/ centrifugal humidifier

Language

ENG SPA

Date

08/01/2020

Release

2.6

Code

+030222021

Description

humiDisk: Humidificateur centrifuge/ Zentrifugalbefeuchter

Language

FRE GER

Date

08/01/2020

Release

2.6

Code

+030222020

Description

humiDisk: umidificatore centrifugo/ centrifugal humidifier

Language

ENG ITA

Date

08/01/2020

Release

2.6
Commercial
Brochure

* Entries are ordered by date

Code
Description
Language
Date *
Release

Code

+3000193NL

Description

Directe bevochtiging Geavanceerde oplossingen voor industriële en commerciële omgevingen

Language

DUT

Date

15/11/2019

Release

1.1

Code

+3000193ES

Description

Humectación directa Soluciones avanzadas para ambientes industriales y comerciales

Language

SPA

Date

15/11/2019

Release

1.1

Code

+3000193DE

Description

Direkte Raumbefeuchtung Innovative Lösungen für die Industrie und den Handel

Language

GER

Date

15/11/2019

Release

1.1

Code

+3000193EN

Description

Direct humidification: Advanced solutions for industrial and commercial environments

Language

ENG

Date

15/11/2019

Release

1.1

Code

+3000193IT

Description

Umidificazione diretta: Soluzioni all'avanguardia per ambienti industriali e commerciali

Language

ITA

Date

15/11/2019

Release

1.1

Code

+3000018FR

Description

L'humidité est importante! Les humidificateurs CAREL, une solution pour chaque application

Language

FRE

Date

26/09/2019

Release

4.0

Code

+3000018ES

Description

¡La humedad es importante! Humidificadores CAREL, una solución para cada necesidad

Language

SPA

Date

26/09/2019

Release

4.0

Code

+3000018EN

Description

Humidity matters! CAREL humidifiers, a solution for every need

Language

ENG

Date

26/09/2019

Release

4.0

Code

+3000018DE

Description

Die Feuchte zählt! CAREL-Befeuchter, eine Lösung für jedes Anliegen.

Language

GER

Date

26/09/2019

Release

4.0

Code

+3000018KR

Description

최고의 습도 조절을 위한 CAREL solutions

Language

KOR

Date

19/02/2015

Release

3.0

Code

+3000018ZH

Description

湿度问题! CAREL解决方案 满足您的加湿需求

Language

CHI

Date

19/02/2015

Release

3.0

Code

+3000018PT

Description

A humidade é importante! Soluções CAREL para as suas necessidades de humidificação

Language

POR

Date

19/02/2015

Release

3.0

Code

+3000018IT

Description

L'umidità è importante! Umidificatori CAREL, una soluzione per ogni richiesta

Language

ITA

Date

19/02/2015

Release

3.0

Code

+30U0018EN

Description

Humidity matters! CAREL solutions for your humidification needs ( USA)

Language

ENG

Date

01/10/2012

Release

2.0

Code

+3000018FI

Description

Kosteudella on merkitystä! CAREL kostuttimet, ratkaisu kostutustarpeisiin.

Language

FIN

Date

01/10/2012

Release

2.0

Code

+3000018SV

Description

Fukt är viktigt! Med befuktare från CAREL inns det en lösning för alla behov

Language

SWE

Date

01/10/2012

Release

2.0

Code

+3000018CS

Description

Na vlhkosti záleží! CAREL - řešení Vašich potřeb zvlhčování

Language

CZE

Date

01/10/2012

Release

2.0

Code

+302235433

Description

Контроль влажности в текстильной промышленности

Language

RUS

Date

02/07/2007

Release

1.0

Code

+30C240431

Description

适宜的新鲜度?

Language

CHI

Date

15/05/2007

Release

1.0

Code

+302240428

Description

humiDisk: For cold rooms and store rooms

Language

KOR

Date

15/05/2007

Release

2.0

Code

+302240438

Description

humiDisk: Для холодильных камер и складских помещений

Language

RUS

Date

15/05/2007

Release

2.0

Code

+302240434

Description

humiDisk: Para cámaras frigoríficas y pequeños ambientes

Language

SPA

Date

15/05/2007

Release

2.0

Code

+302240433

Description

humiDisk: Für Kühl- und Lagerräume

Language

GER

Date

15/05/2007

Release

2.0

Code

+302240432

Description

humiDisk: Pour chambres froides et petits locaux

Language

FRE

Date

15/05/2007

Release

2.0

Code

+302240431

Description

humiDisk: For cold rooms and store rooms

Language

ENG

Date

15/05/2007

Release

2.0

Code

+302240430

Description

humiDisk: Per celle frigorifere e piccoli ambienti

Language

ITA

Date

15/05/2007

Release

2.0

Code

+302239432

Description

Solutions pour comptoirs et cellules frigorifiques

Language

FRE

Date

01/10/2006

Release

1.0

Code

+302239433

Description

Lösungen für Kühlmöbel und Kühlräume

Language

GER

Date

01/10/2006

Release

1.0

Code

+302239434

Description

Soluciones para muebles y cámaras frigoríficas

Language

SPA

Date

01/10/2006

Release

1.0

Code

+302239436

Description

Решения для витрин и холодильных камер

Language

RUS

Date

01/10/2006

Release

1.0

Code

+302235384

Description

soluciones para la industria del tabaco

Language

SPA

Date

15/01/2006

Release

1.0

Code

+302235383

Description

Lösungen für die Tabakindustrie

Language

GER

Date

15/01/2006

Release

1.0

Code

+302235382

Description

solutions pour l'industrie du tabac

Language

FRE

Date

15/01/2006

Release

1.0

Code

+302239431

Description

Solutions for showcases and cold rooms

Language

ENG

Date

01/10/2005

Release

1.0

Code

+302239430

Description

Soluzioni per banchi e celle frigorifere

Language

ITA

Date

01/10/2005

Release

1.0