« Back
Precise humidification for quality printing
18/01/2011
Precise humidification for quality printing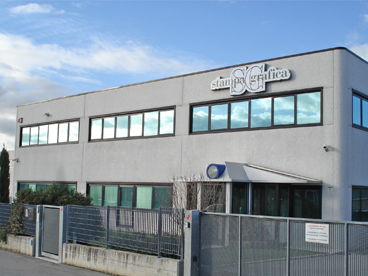 Founded in 1988, Stampa Grafica has since grown continually to become an established and recognised business in the graphics industry. Partnerships with leading national and international companies have helped lay the foundations for the development of its corporate philosophy, that is, quality, flexibility and proactiveness. Its products are mainly designed for stores and sales outlets in various different sectors: automobiles, cosmetics, wellness centers and grocery stores, and include cases, displays, brochures and catalogues/booklets. As we know, paper is a hygroscopic material and its dimensions vary significantly depending on the humidity.
The air-conditioning system in the printing facilities must ensure a stable temperature of 20 °C and relative humidity between 50 and 60%. The previous solution with wetted media humidifier incorporated into the air handling unit was not satisfactory, due to insufficiently precise control, high water consumption and high periodical maintenance costs.
The solution identified involved using a humidification system made up of a CAREL humiFog adiabatic humidifier with 5 blower units that atomise water directly into the environment. The tangential fan in the blowers generates a flow of air that carries the droplets, assisting evaporation. The design requirements were thus met with low operating and maintenance overheads, to the extent where the owner, Guido Santi, has recommend this solution for the printing industry.
+4000008EN
Latest Success Stories