« Back
Natural refrigerants and high efficiency have never been so closely linked
17/03/2017
Natural refrigerants and high efficiency have never been so closely linked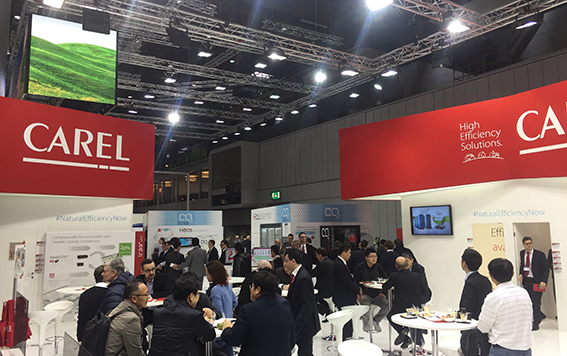 The recently concluded Euroshop was the biggest in the event's fifty-year history, with more than 113,000 visitors and 2,368 exhibitors. CAREL was part of this record, having exhibited with its largest ever stand, once again showing innovative, cutting-edge solutions, presented on real working units.
"Over the five-day show we achieved the publicly-stated objective we had set ourselves with NaturalEfficiencyNow: to not only make the efficient use of natural refrigerants possible, but to demonstrate it practically", stated Alessandro Greggio, Group Head of Marketing - Retail & Refrigeration. "At our stand we presented the most innovative control solutions for commercial refrigeration, using actual working refrigeration units and systems. We are proud that attendance at our stand and the interest generated in the industry have again confirmed that CAREL's continuous investments in innovation are heading in the right direction."
Indeed attendance at the stand was high throughout the entire show, with visitors from all five continents interested in the innovations and compatibility with natural (CO2 and propane) and low-GWP refrigerants (HFOs) introduced into CAREL's solutions.
Also particularly satisfying were the two ATMO Network– Natural Efficiency events organised in collaboration with shecco and hosted at CAREL's stand on 7 and 8 March. These two seminars provided an opportunity to examine the role of natural refrigerants internationally, with valuable contributions by Clare Perry from the Environmental Investigation Agency (EIA) and Nika Greger from the German Development Agency for International Cooperation (GIZ).
Latest News